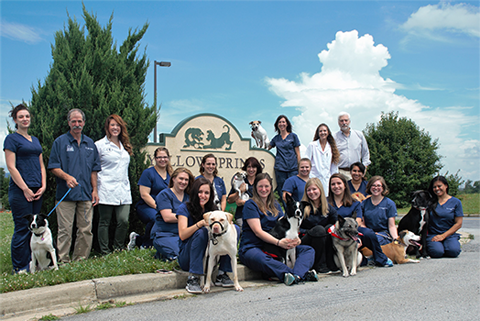 DVM, RPh, CVAC

Dr. Randy Barbour, a native of Vinton, Virginia, graduated from the Medical College of Virginia School of Pharmacy in 1981 and The Virginia-Maryland School of Veterinary Medicine in 1986. After working in emergency and small animal private practice for four years, he founded the Yellow Springs Veterinary Clinic in 1990. Today, Dr. Barbour serves as our medical director and enjoys the challenges and rewards of helping our cherished patients live the healthiest life possible.

Dr. Barbour and his wife, Jackie, enjoy snow skiing, hiking, biking, traveling, and spending time with his son Michael, a talented ski racer, and his daughter, Laura, an accomplished equestrian. They share their home with their dogs: Ripken, Kayla, and Bodhi. All three dogs were adopted from Virginia German Shepherd Rescue.

DVM

Dr. Geof Ruppert is a 1984 graduate of Walkersville High School. He attended Virginia Tech to study animal science and graduated first in his class in 1991 from the Virginia-Maryland Regional College of Veterinary Medicine. After beginning his career as a general practitioner for both large and small animals, he narrowed his focus to companion animals in 1996. Coming to Yellow Springs Veterinary Clinic in the spring of 2004 with 13 years of private practice experience, he has enjoyed catching up with old friends and making lots of new ones.

Geof spends his time away from the office with his two children, Caroline and Sam; his wife, Barb (also a Walkersville grad); a flock of 60 Corriedale sheep; his border collies, Murk and Peg; and seven cats (his daughter's pride and joy). He can pick a few tunes on the five-string banjo and likes listening to Jethro Tull and Alison Krauss.

DVM

Dr. Michelle Kluchurosky graduated in 1993 from Indiana University of PA with a B.S. in biology. She earned her veterinary degree in 1997 from Ohio State University College of Veterinary Medicine. After graduation, she practiced small animal medicine and surgery for 4 years at Centre Animal Hospital in State College, PA.

In 2001, she accepted a position with the Animal Medical Hospital in Glenwood, MD, and was an associate there for 6 years. Michelle has been with YSVC since 2007, and she has developed a special interest in feline medicine and dermatology. Dr. Kluchurosky currently resides in Woodsboro, MD with her husband, Ralph, their son, Ben, daughter, Catalina, 3 cats, a golden retriever, 2 horses, and a donkey.

Dr. Alexandra Barnard grew up in Howard County, Maryland. After receiving her bachelor's degree in Animal Science from the University of Delaware in 2010 and her Doctorate of Veterinary Medicine from the University of Pennsylvania in 2014, she moved back to Maryland. For the last four years, Dr. Barnard has worked in mixed animal practice at the Animal Medical Hospital at Glenwood, located in Glenwood Maryland, where she routinely saw horses, small ruminants, dogs, and cats. 
Dr. Barnard is thrilled to start the next step in her career focusing on companion animals at Yellow Springs Animal Hospital. Her special veterinary interests include diagnostic imaging, pathology, and working with geriatric animals. In her spare time, Dr. Barnard enjoys spending time with friends and family, cooking, helping at local 4-H activities, snuggling her cat MK and her rescue dog Kolbi, and riding her family's horses.
Veterinary Assistant
Surgery Assistant.

Veterinary Assistant
Customer Service Representative

Veterinary Assistant
Surgery Assistant

Veterinary Assistant
Surgery Assistant

Customer Service Representative

Veterinary Assistant
Customer Service Representative


Veterinary Assistant
Surgery Assistant
Customer Service Representative

Customer Service Representative
Veterinary Assistant
Surgery Assistant
Yellow SpringsVeterinary Clinic is an AAHA Accredited Practice
This practice has successfully achieved accreditation by the American Animal Hospital Association.
We hold a place of honor within the Association and the profession. Only 14% of the veterinary practices throughout the United States and Canada have made the commitment to voluntarily participate in an on-site evaluation based on the highest standards in veterinary medicine.
This practice was evaluated on over 800 standards, proving a strong desire to provide high-quality medicine and top-notch client service.
An Accredited Member since 2002!